Yes, this is a service we offer! You can do this by clicking the "Printed Guest Names" option on the product page of the Place Card design you've chosen.
You'll then be taken to the Place Card editor.
You can begin by choosing the quantity on the left hand side of the screen - we'd recommend getting a few extras on top of your number of guests, in case of any last minute seating changes. The lowest number of place names we can print is 30.

You will see two separate text boxes, each with default text in, on one or both sides of the folded place card.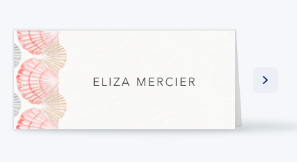 To enter your guests' names, simply click the default name on the place card, and boxes for all your individual guest names will appear on the right hand side of the editor

You can then enter each guest's name in turn, in the boxes on the right hand side of the screen.
In the bottom right hand corner of the screen, you can see the total number of personalised and unpersonalised place names you have remaining. If you leave any of the name boxes blank, you will still receive this place card, but it will not have a name printed on it, so you'd be able to handwrite this, as well as any others you leave without a name, if you need any spares closer to the time.

The other text box on the place cards is the 'Master Text' which will be printed across the entire set. For weddings, most people choose to put the names of the happy couple, and for other special occasions, you may wish to write the date, or the event you're celebrating - for example, 'Nikhil's 60th Birthday' or '12.04.2020'. Simply edit this text in the text box on the product, and it will be printed across the whole set.

                                       
Once you've added all the guest names and edited your master text, you're ready to proceed to checkout.

Your place names will arrive flat, with a pre-scored fold line in the centre, ready for you to fold and place on your tables.