If you've got a lot of information to fit on your invitation and info card and are having trouble making it all fit on, you may see the 'Your text doesn't fit' message. You can try a few different things to ensure this all fits.


Add an extra Info Card, by clicking the 'Add' button on the left hand panel in the editor. You can add up to three.

Check that there isn't just a blank line of "text" overspilling out of the bottom of the text box.
Amend the spacing between lines of text and between characters by selecting the text on the page & reducing/increasing the numbers. The controls for this are with the other text editing tools.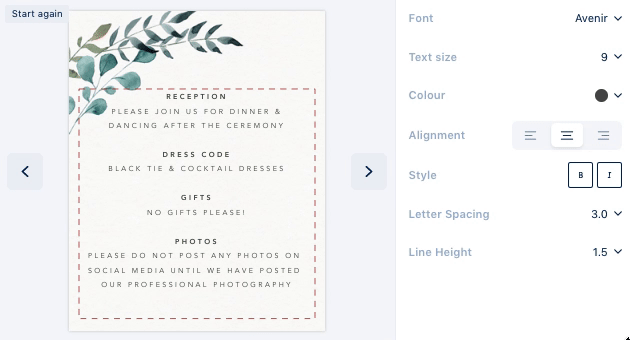 Request a double sided Invite, Info Card or RSVP. To do this, please email support@papier.com and include the name of the design you've chosen so we can create a double sided one for you to add text to the reverse of.