As all of the text on our wedding invitations and Save the Dates is editable, we don't have a specific section for these on our website, as you're able to use any of our Party Invites, Wedding Invites, or Save the Dates for your evening guests.

You can also use the same invitation style as you're using for your main Wedding Invitations, but change the time and any relevant wording on them.
To save you having to start a second version of the day invitation from scratch for use for your evening guests, you can duplicate your existing design in your account. Just go to your saved designs and select the 'duplicate' button to create a copy. Then that all you will need to change is the arrival time, and wording relating to the ceremony, reception, or evening celebration, for your different groups of guests. See below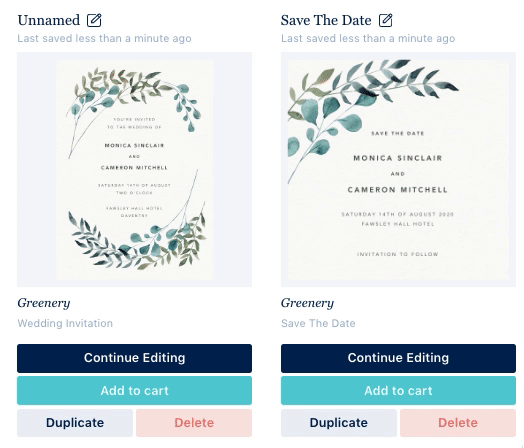 You can then rename the designs, e.g. 'day invite' and 'evening invite', so that you can tell them apart, and add both of the versions of the invitation to your Shopping Cart prior to placing your order for both.