Once you've browsed our designs and chosen one, click on it. On this next page you will be given a little more information about the product. When you're happy with your choice, click 'customise'.
Once in the editor:
1. To change the default text, tap the dotted text box and click directly onto the example text you wish to change.

2. Select 'Edit Text' - This will allow you to change the highlighted wording. You can then remove the default text (using your backspace key) or change it by typing your own text
3. When you have finished amending the wording, press 'Done' on the top right.
4. When you are ready to order, simply click 'Add to basket' at the bottom of your screen.
Font Customisation Tools:

The 'Edit' button will allow you to add/amend the wording, as explained in the previous step.
Font colour:


Click on the circle icon. You can look through the options by swiping horizontally.
Alignment: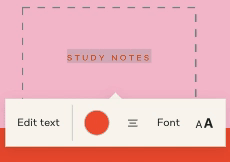 Select the 3 lines. This will allow you to have your text centred or to the left/right of the text box.
Font style:


Click 'Font' to choose one of our 33 different Font styles. Swipe horizontally to view all options.
Font size/spacing:

Click the 'AA' symbol, this will give you the option to have your font in bold or italics.
If you swipe along horizontally you can amend the text size using the + and - buttons.
Letter Spacing means the space between each character, the + and - buttons increase or decrease the closeness of each character.
Similarly, Line height will mean the space between each line of text, the higher the number, the bigger the space between.
My text is overflowing - What can I do?
Anything which is visible within the dotted line of the text box, is what will be printed.
If you find that you have some text overflowing, you can amend the font size, line height/character spacing so that your chosen text fits.
Alternatively you can click 'Resize to fit' and the editor will do it for you.
We print your product, as submitted so please ensure all areas have been edited/removed!